Our Process for Stakeholder
Value Assessments
Objectives for
LOYAL

itix

Customer Stakeholder Value Assessments

Our assessment methodology has 8 Standard Objectives embedded into the process to solicit feedback in all areas of the maturity model
Standard Objectives: Identify
Overall strengths, weaknesses, opportunities, and threats (SWOT)
Effectiveness of structures and resources, and identification of barriers
Perceived performance based upon examples and expectations that create gaps
Internal and external relationships in need of repair, intervention, strengthening or establishing
Opportunities to demonstrate leadership, differentiate, and provide thought‐leadership
Areas for macro and micro change, and organizational development through listening and learning
Employee drivers for generating and retaining a high‐performance workforce
Customer drivers for creating value through innovation and resourcefulness as a trusted advisors
Standard Objectives: Input
Stakeholder interfaces and relationship management
Performance improvement
Personnel and Organizational Development
Engagement Specific
TBD
TBD
TBD
LOYALitix® Architecture & Maturity Model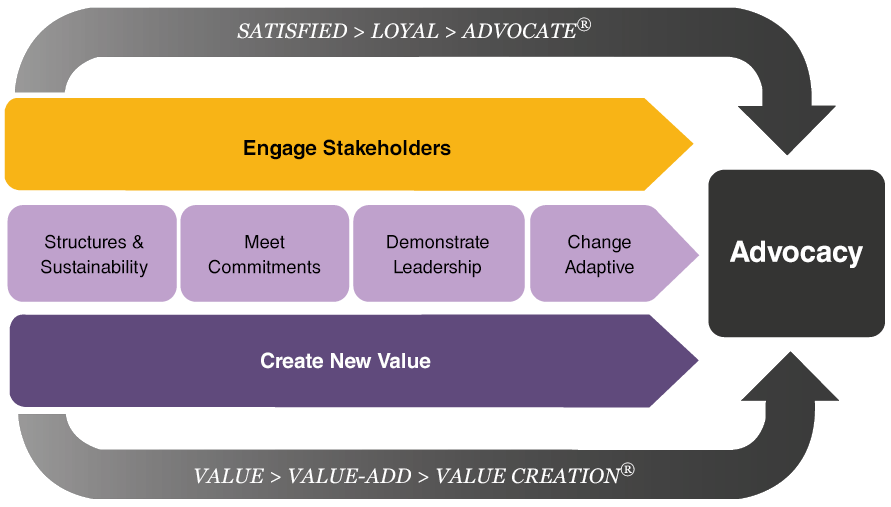 Structures & Sustainability

The first building block to effectively support and fulfill obligations is to have solid structures that support a sustained high level of performance.

Meet Commitments

The basis of a relationship is meeting commitments and being accountable for results, a prerequisite for delivering the value expected.

Engage Stakeholders

Engaging stakeholders includes effective employee, partner, and customer stakeholder relationships.

Demonstrate Leadership

Deep understanding of the customer's mission provides the organization purpose and moves it from merely providing the value expected, to providing value-add. Service provider leadership helps align internal objectives to the customer mission enabling internal stakeholders to understand how they contribute to the end goal.

Change Adaptive

Being change adaptive is not the same as being reactive. It requires a future focus, and realignment to keep the ecosystem healthy, relevant, & proactive.

Create New Value

Building upon the previous behaviors, this state encourages innovation and resourcefulness. These organizational capabilities elevate the service provider to a trusted advisor role that integrates and leverages resources toward the future. These behaviors are enterprise enabling and extend beyond the direct role of the service provider.